An Interview with Indie Rock Queen
Linda Strawberry

(Remember "The Godfather" when the horse head ends up in the mobster's bed? That head? It's the music business in 2008. MP3s, music sharing, playlists, iPods, and the death of CDs have the industry fretting like a mobster without his prized race horse. Yet despite the blood and guts, there is still good music being made. Case in point: Linda Strawberry – a talented singer and keyboardist. Linda has developed a rabid following of fans – pretty much by herself. It speaks to her talent and her ability to reach out to her fans through the magic of the Internet – using YouTube, MySpace and other social media sites to distribute her music. Linda took some time between gigs (yeah, we like that word) to answer some of our questions.)
DaRK PaRTY: How did you get started in the music business?
Linda: My parents are freakishly talented. They are both amazing pianists, vocalists, and composers (currently in the Mormon Tabernacle Choir). So, I was always around music since I can remember. When I was 13 my dad set me up with a little writing studio in a closet in the basement and that was the beginning of my song writing. When I was 17, I had written about 70 songs and my mom helped me go to every producer in the state to try to pursue what to do with them. I eventually met Bjorn Thorsrud and Tony Zito who helped me record my first demo and introduced me to Billy Corgan.
Then I realized I didn't know who I was yet or exactly the artist I wanted to be so Billy suggested I take a little time to get to know myself. So I put my own music aside for a while and began working in the studio. I had just left Mormonism so I had about two years where I was just sorting out my head and reading everything I could get my hands on. By the time I was 21, I felt I had a good grip on what I wanted and a good background on what a mess the music business was.
So, I jumped head first into it. In the last five years I have recorded about 40 songs and written at least 100 with only six released. I have had and lost deals as I've watched the music business grind to a halt. Now signing with one of the only remaining labels seems more risky than starting my own and trying to build what I've done independently so I've started Lovely Chaos Records in my house. I am trying to do whatever I can on my own until things get better.
It's a hard business to be in right now. Lately, I have been focusing my creative efforts more in visual art to pay the bills. I have the mentality of doing everything I possibly can on my own and not relying on other people to make it happen. It can be tiring though recording, writing, mixing, doing all the album art, business stuff, and running all the promotions... but that's where I'm a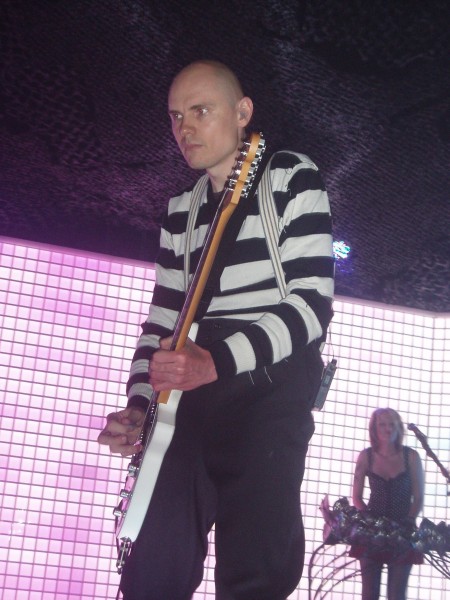 t.
DP: You toured with Billy Corgan (playing keyboards) during his solo tour in 2005. How did you meet him and get connected with his project? And did it influence the way you approached your own music?
Linda: I sort of answered this in the above answer. I met Billy when I was 18 through Bjorn Thorsrud (producer/engineer). The first time I met him face to face was at a Smashing Pumpkins in-store performance in Salt Lake City when they were doing the Machina Tour.
The first thing Billy ever said to me was "Can you help me tie my dress?" That's when he was wearing those leather dresses. I was petrified of him. He immediately reached out to me though and started pushing me. My first time ever on stage was singing "To Sheila" at the last Smashing Pumpkins show.
My first time having a song released was a recording of "Love to Love" we did for the SPUN soundtrack. Now, eight years later, we are still really good friends and I have never known a harder working or more talented musician. I can't even think of how many songs I've watched him write over the years or it will make my brains explode. He NEVER STOPS! It makes me work harder!
How I came to be on the solo tour was that I was recording in Chicago and there had been some turmoil with my record so we had dinner and he asked me if I wanted to take a break and see the world. Three weeks later, I was in Portugal standing in front of a $60,000 a week lighting board.

DP: We have been digging, well, your song "Dig." Can you tell us more about it?
Linda: I wrote "Dig" at a very low time. I was in love with a very dangerous man. H e treated me like shit, controlled me, manipulated me and I still stuck around like a moron. When I wrote "Dig," I was in Chicago trying to get over him. I remember laying half off a mattress scribbling the words onto the back of a receipt trying to pour all the lust, love, and despair into one song.
"My mouth is hung/ Lips bee-stung from tears/ I could die/ I could die/ I could die but I backbend to push you in farther than you've ever been/ I've never believed such words as I believe when you string them up." That's all sex and me knowing that I shouldn't be there but doing it anyway and risking everything even knowing that everything out of his mouth was bullshit.
"Love I forget where my endings begin/ never such a calm undoing as this/ pierced right through by a single kiss." About how I would try to leave but would end up back and there was no boundary. I was like calmly accepting my own undoing just to walk through his door and kiss him. What's that line? "Casting pearls before swine…"

Now the song has an entirely different sexy meaning. When I sing it it's to my new amazing boyfriend who has healed me so much (and who I hope I'll marry) and its still dirty and seductive but in the best ways plus true devotion (which is so much hotter).


DP: You've been a master at using the Web to grow your fan base -- leveraging YouTube, MySpace, etc. Do you like going directly to the fans or would you prefer working with a recording label?
Linda: I love having direct contact with people. I have lots to say and it's nice to have a place to talk about what's going on in my head. Our culture is changing so much about the way we communicate and listen to each other. Also, with things being so dead in the industry there's no way I could just sit back and assume any of this would get done without me doing it myself. So, I do whatever I can. Its tiring but I'll continue to do it for as long as it takes to get where I'm trying to go. The fans who write me keep me going.

DP: What musical artists have influenced your work the most and which bands are you listening to these days?
Linda: Musical Influences – obviously Billy Corgan/Smashing Pumpkins , Siouxsie Sioux, P.J. Harvey, The Cars, Depeche Mode, Diamanda Galas, Marianne Faithfull, Annie Lennox, Irving Berlin, Steve Reich, Joy Division, Tori Amos, Kate Bush, Bjork, the Go Go's, Roxette, Billie Holliday, and Nico.

New bands... Hmmm. Its hard to name specific bands because I listen to everything. Can I sneak past this question?
5 Questions About: The Feelies (with Glenn Mercer)
Overlooked Albums by Some Great Bands
10 Really Bad Videos from the 1980s
Labels: 5 Questions, Linda Strawberry, Music
StumbleUpon
|
Digg
|
del.icio.us
|
Reddit
|
Technorati
|
E-mail